Don't just sit there, stand up!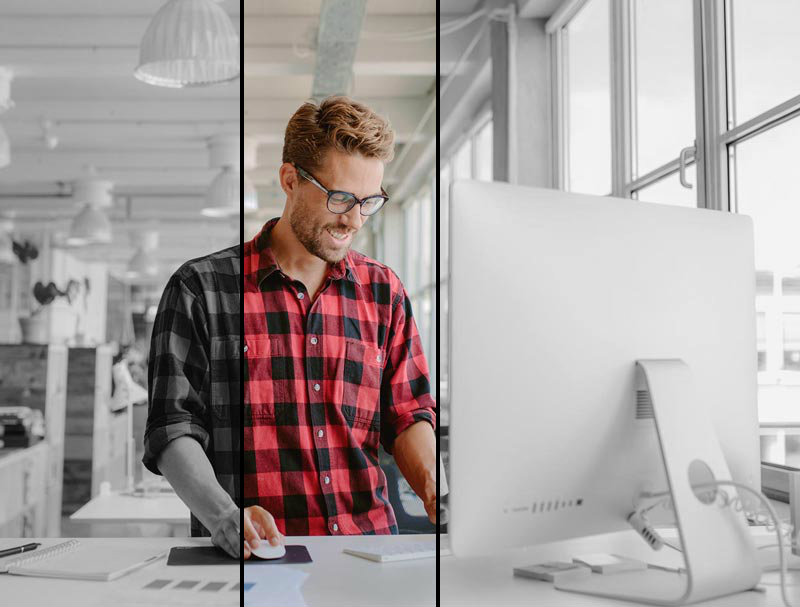 We sit at work. We sit in our cars. We sit at home. And when we're done sitting, we lay down and go to sleep!
But new research is painting an increasingly terrifying picture, correlating hours spent sitting with heart attacks, back pain, obesity, and diabetes.
The American Cancer Society found that women who sat more than six hours a day were 37% more likely to die prematurely than women who sat for less than three hours, while the early-death rate for men was 18% higher. Sitting is quite literally killing us!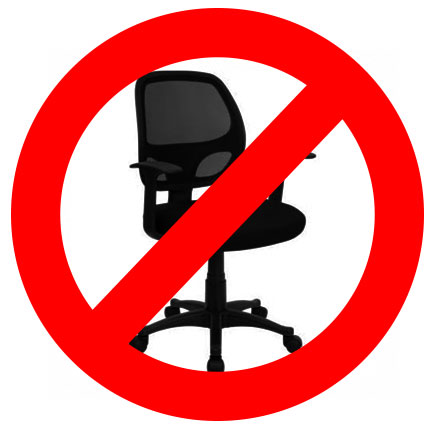 The rise of the standing desk
When it comes to sitting all day, "It's all about finding the proper sitting posture", the old ergonomics myth goes. But there is no "correct sitting posture" – the human body isn't meant to spend its life sitting motionless. Sitting cuts off circulation, slows metabolic processes, and drops cholesterol totals. The human body is designed to be upright and in motion.
Standing desks are far from a new idea: they're practically an American tradition, favored by the likes of Ernest Hemingway, Winston Churchill, and Thomas Jefferson.  But it was Silicon Valley who revived them for modern times. Those trendy California offices were among the first to offer employees the option of using a standing desk. Health-conscious tech workers love 'em, and the standing desk bandwagon has expanded to include Google, Adobe, Twitter, Disqus, and Facebook.
In a world geared towards convenience, a desk that requires you to stand up to work might seem like an odd perk. But converts are raving: Facebook recruiter Greg Hoy told the Wall Street Journal, "I don't get the 3 o'clock slump anymore, I feel active all day long."
5 Reasons to Use a Standing Desk
1. Enhance your Focus
Many standers say that standing creates a sense of urgency, making it easier to power through routine tasks. Creative tasks can be somewhat at odds with the sense of urgency, but some creative types feel that the extra focus is worth it.
2. Up your Calorie Burn
Sitting burns just 1 calorie per minute. Standing burns more calories than sitting, especially if you fidget and shift from foot to foot. Workers who struggle to squeeze a workout into their busy schedule appreciate the passive calorie burn from a standing desk.
3. Feel Empowered
Don't like it when your boss looms over you? Standing up puts you eye-level with co-workers who drop by your workspace. Meetings and conversations where everyone stands tend to move more briskly and stay on topic.
4. Save Your Back
Standing all day builds stamina and strength in your legs and back. Some sufferers of chronic back pain report a decrease in pain after changing to a standing desk.
5. Get Good and Tired
If you sit for 9+ hours a day, you might find it hard to fall asleep come bed time. Standing all day helps fatigue you the way you were meant to be fatigued – slowly, over the course of the day. Don't be surprised if your sleeping troubles disappear after a day of standing.
Make the Switch to a Standing Desk
Ready to enjoy the benefits of working standing up?
It's easy (and inexpensive) to convert your existing desk into a standing desk.  And when you're ready to go all the way, there's an ever-increasing variety of standing desks to choose from including adjustable desks and clever DIY solutions.
Convert Your Existing Desk to a Standing Desk
Convert your existing desk by setting a Stand Steady "miniature desk" on top! The Stand Steady's adjustable legs allow you to set it to just the right height, and the generously sized 24″ x 20″ platform is large enough for an ergonomic split keyboard and mouse. Height range is 11.25″ to 15.25″.
24″ x 20″ work surface is large enough for 22″+ monitors and big keyboards
Frees up 3 cubic feet of space on your desk
Adjustable height: find the most ergonomic height for you
The Varidesk Pro's claim to fame is its adjustable design. Collapse it to work sitting down, or stand it up in seconds by squeezing the handles on the side and lifting it into a standing position. If you expect to do a mix of standing and sitting, the Varidesk could be perfect for you. Varidesk Pro costs more than some standing desk conversion systems, but you might come out ahead by not purchasing a standing chair and/or a whole new desk.
Read our full review on the Varidesk Pro Plus
Easily switches between sitting-mode and standing-mode
Support for two monitors
Huge work area: 36″ x 23″ work surface
Max height 15.5″ (which would be enough for this 5'8″ author on a 29″ sitting desk)
Complete Standing Desks
These all-in-one standing desks are a quick and easy way to start standing.
This 4-wheeled standing desk "cart" is a portable desk suited perfectly for a laptop. I had a chance to use one of these (albeit briefly) when I gave a presentation in Seattle. This laptop cart was the perfect height for supporting my MacBook Pro, which I used to deliver slides to the projector.
Good weight balance with built-in storage space
Easy to assemble and sturdy construction
Height adjustable up to 44″ (which might be too short for users 5'9″ and taller)
Use it anywhere: wheel it around, take it with you in the car
This Safco Muv adjustable height desk is compact and goes all the way up to 49″, making it perfect for taller users since many standing desks top out around 45″. Additional shelves add convenient storage, and the top table is wide enough for smaller dual monitor set-ups.
Up to 49″ tall, great for taller users
Shelves for CPU or extra storage
Wheels for convenient re-positioning
Need a full size standing desk? The GeekDesk Max is an electric-powered adjusting standing desk with plenty of room for your monitors, speakers, keyboard, and mouse. The GeekDesk can sit low at a typical sitting-desk height of 23″ and extend to a max height of 49″ – tall enough for even above-average height standers.
Effortless height adjustment, just push a button!
Huge work surface
Lowers to 23″ for sitting, raises as high as 49″ for tall people
StandingDeskGeek is unaffiliated with GeekDesk – we just have similar taste in names.
For a standing desk that's custom-made to your needs, check out standupdesks.com for hand-crafted office furniture.
Standing Desk Accessories
Standing all day puts additional stress on your feet. If you're not standing on carpet, consider accessorizing your standing desk with a comfort mat. Standing Desk Geek recommends the Imprint Comfort Mat for its 4.5/5 Amazon average rating, 7 year warranty, no-curl edges, and selection of colors and sizes.
Variety of sizes and colors
Non-toxic and phthalate free
7-year warranty!
With a height range of 28″-34″, this tall chair by Boss is perfect for sitting at your standing desk. We understand the irony of buying a chair for your standing desk – but even the most devoted standees need to take it easy sometimes. A mix of standing/sitting is ideal. This is the chair we here at Standing Desk Guide use with our standing desks, and we love it – the cushion is firm, the back is comfortable, and the foot ring is a good height.
Firm, durable cushions
Wheeled feet for easy re-positioning
Slim profile – doesn't get in the way
At a standing desk, you may find that your monitor(s) need to be higher, thanks to your straightened posture. This plastic, adjustable-height monitor stand by Kantek is great because the legs are made up of small segments, allowing you to get it to just the right height. It's fairly large at 17″ x 13″, so be sure it'll fit on your desk.  We chose this monitor stand because its height goes all the way up to 6 1/2″, whereas many monitor stands are shorter. (I'm 5'8″ and my stands are 6 1/2″ tall, exactly.)
Securely stackable for extra height
Adjustable height up to 6.5″
Sturdy plastic
Generously sized: 17″ x 13″
More on the Benefits of Standing Up