The best standing desks with wheels for every budget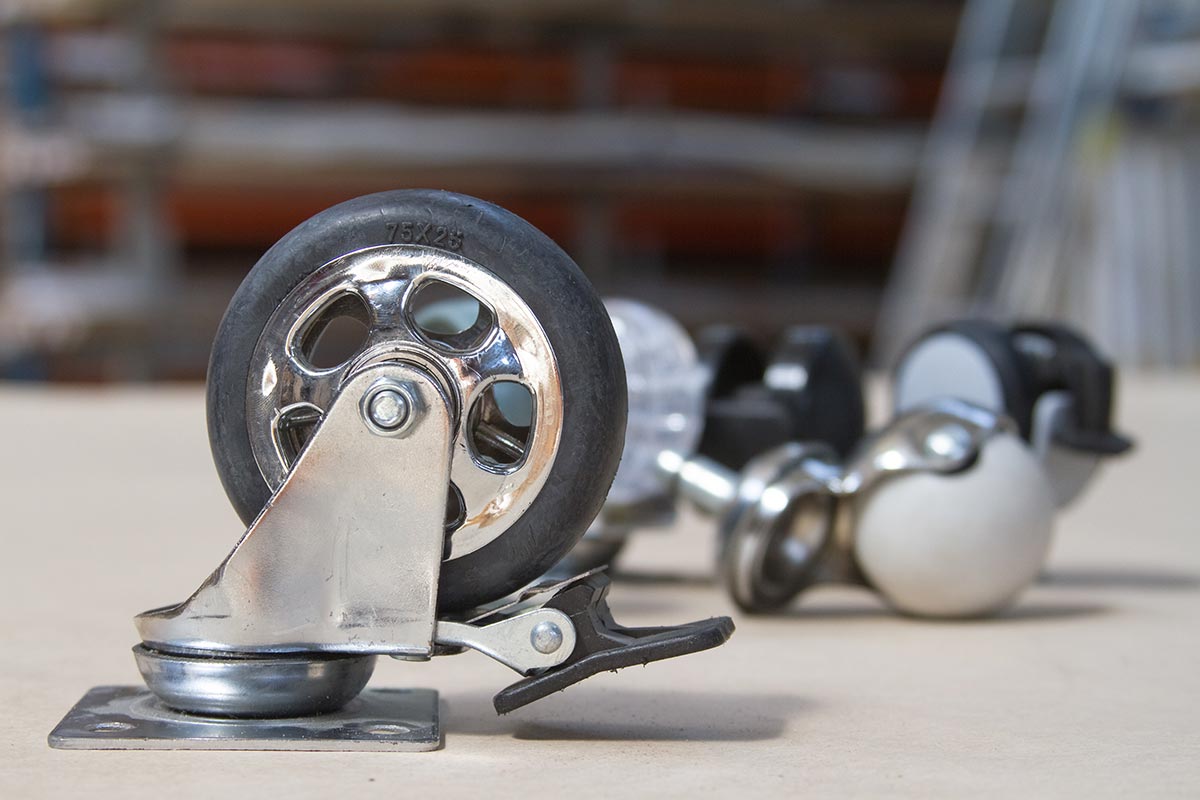 Sometimes you need a desk that can go!
Many standing desks, from full-size (60″ wide) to micro come with wheels. In this review, we're looking specifically at standing desks that come with lockable caster wheels on the bottom.
Why get a standing desk with wheels?
If you're choosing a desk for a home office or cube farm, you might think you won't get much use out of the wheels. However, having wheels can be useful for all those times when you need to add a new monitor, re-arrange desks, move to a new part of the office, etc. Since wheels don't compromise stability (much), it's worth considering the option.
Full-size standing desks are heavy – usually over 100 lbs once loaded. If you ever want to run some new cables or move the desk a few feet to the left, wheels make that a lot easier. Nearly all standing desks with wheels have a locking mechanism, and stability isn't compromised.
Desks on wheels are much easier to move. Choosing a standing desk on wheels would be particularly useful for offices that tend to move workers around every so often. A desk on wheels is much easier to push down the hallway and might be the difference between moving your own desk and having to wait for the office maintenance crew to move it for you.
We didn't notice any significant decreases in stability on desks with wheels vs. without, especially with ordinary office equipment (two flat panel monitors, keyboard, mouse, note pads, Nerf guns) on top.
We also didn't notice any significant difference in costs. So, if you think there's any chance you'll want to move your desk's physical location, consider a desk with wheels.
What to look for in a standing desk with wheels
Lockable wheels – this is a must, and every desk we considered for this review had lockable wheels
Sufficient surface space, not just for your keyboard and mouse but your notebook, water bottle, glasses, anything else you might put down and pick up throughout the day
Enough space for your feet to move around underneath the desk – we found some desks included a low-to-the-ground shelf that might seem handy for storage, but we also found it too easy to accidentally kick those shelves (and the things on them)
Overall sturdiness – weight and overall size contribute to sturdiness (the heavier the better), but nearly all desks feel more sturdy once loaded up with monitors and other equipment
A high enough max height for you – some desk names start with an inches number, like "60" stand up desk", but in our experience that 60″ is often the width of the desk, not its max height. Look carefully.
Best electrically-adjustable, full-size standing desk with wheels

The best of the best, the cream of the crop – the Luxor Standup 48″ Height Adjustable Electric Standing Desk has everything you could want, including convenient electrically-assisted lifting/lowering so you don't have to turn a crank for a minute straight. It comes in numerous color palettes, from all-dark to all-light, with some wood grain options, too. It's 48″ wide, which is probably enough for most people, but if you're like us and you live at your desk, you might love the extra foot of width on their 60″ version, the Luxor Standup 60″ Height Adjustable Electric Standing Desk.
This desk comes in many different color palettes, so be sure to check 'em all out and see which one matches your office's decor best.
Why this desk is tops
Electrically powered height adjustment
Generous 47.25″ x 29.5″ surface area – and there's a 60″ wide version for us ridiculous people
Hand-crank adjustable up to 45.25″ tall (and down to 29.5″)
Locking wheels
See the Luxor Standup 48″ desk on Amazon.com

They also make a hand-crank version of this desk (the stock photo looks exactly the same – look on the right side of the desk for the crank) but it's surface area is significantly smaller than our top pick in the hand-crank category, below.
If you'd rather have a 47″ wide hand-crank desk over a 59″-wide hand crank desk for the same price, go with this one. Otherwise, keep reading for our (wider, deeper) top pick in the hand-crank category.
Yes, the stock photo for the Luxor Standup version looks exactly like the Luxor standup desk with the electric-assist lift. The only real difference is the hand crank on the right side.
In your searches for an electric-lift standing desk, you might come across the Stand Up Desk Store's similar offering, the 60″ Electric Stand Up Desk. This is a fine desk, but we didn't choose this desk as our top pick because at the time of this writing this desk does not ship with Prime, so you pay around $50 to ship this behemoth. You'd be better off buying a Prime membership, getting the Luxor, and enjoying the other benefits you get from Prime for the year.
See the Luxor Standup hand-crank version on Amazon.com
Best hand-crank full size adjustable standing desk with wheels
If you still want a full-size adjustable desk on wheels but you don't need the bells and whistles of a motorized lift, take a look at the rather generically-named Crank Adjustable-Height Standing Desk from the Stand Up Desk Store. It's got a nice, huge working surface (59″ wide x 29.5″ deep) and cranks up to a maximum height of 45.25″ (lowest height is 29.5″). The big working surface is why we rank it above the Luxor Standup Hand-Crank desk (see above). 
It comes in numerous color palettes, ranging from all-black to wood grains to all-white.
A hand-crank can be a bit of work, and it's about 40 seconds of crank twirling to switch between sitting and standing heights. The crank is conveniently located on the side of the desk, rather than on the top where it eats up precious surface space. 
Why it's great
Hand-crank adjustable up to 45″ tall
Huge surface space: 59″ wide x 29.5″ deep (if that's too big, look at the similarly priced Luxor Standup which is 47″ wide and same depth)
About half the price of a motorized sit/stand desk (and it takes about 30 seconds to go from low position to high, or vice versa)
Strong and sturdy – put all the monitors and printers you want on this desk
Assembly tools included, ~30 min setup
Locking wheels
See the 60″ crank-adjustable height desk on Amazon.com

If you'd rather have a hand-crank desk on wheels with a split surface, check out the Stand Up Desk Store 60″ Crank Steel Adjustable Sit to Stand Up Desk. This split-surface desk isn't our top pick for this category because it's a bit pricier than the LUXOR Standup-CF48-DW and we generally prefer one-big-desk to two-narrow-desks.
This desk is great at a few things
The top surface has a range of 33″ – 47″ and the lower surface has a range of 29″ – 43″
You probably won't need monitor stands
See the Stand Up Desk Store's 60″ Crank desk on Amazon.com
Best mid-range / budget standing desk with wheels
Maybe you don't need an adjustable standing desk at all. Adjustable sit/stand desks cost more than standing desks that are really only meant to be standing desks, and you might prefer using a standing-height chair instead.
In that case, check out the Mobile Ergonomic Stand up Desk Computer Workstation. It does exactly as it says on the tin: it's mobile, it's ergonomic, and you're probably going to use it with a computer. It's a split surface desk, though, so if you'd rather have one big tabletop, take that into consideration when choosing this desk. 
It only does "standing" heights, but if you don't need a desk that can be both a sitting desk and a standing desk (or you BYO tall chair) then you can pocket hundreds of dollars in savings by going with this desk instead.
Why it's great
Separate keyboard and monitor surfaces reduce your need for a separate monitor stand
Adjust top shelf and bottom shelf heights independently for maximum ergonomic goodness
Wheel it wherever you want
Sturdy construction
Budget-friendly price 
Lots of widths available: 40″ wide version and 48″ wide version
What you might not like
Bottom shelf is both convenient and easily kicked
No obvious place to put a PC tower; this is a good desk choice for laptop, Mac Mini, iMac users, but might pose some difficulties for traditional PC users who have to stretch cables all the way up to standing height
Best laptop-size standing desk with wheels

The minimalist design of Techni Mobili's "laptop podium" has made it a popular choice for folks who need to save space. When we say laptop-size, we mean "a laptop is the only thing you're going to fit on this desk". There's not even room for a mouse off to the side.
That makes this desk a good choice for short-term uses, such as presentations in a classroom or shared office space, or a convenient place to park your laptop while you work in the kitchen. It's probably not a great place to spend every single work day.
It's little but it's got all sorts of uses, from the classroom, to the kitchen to office meeting rooms.
Why it's great: 
Super budget-friendly price
Height adjustable from 27″ – 43″
4 casters; 2 locking wheels
What you might not like: 
It's small
It's a bit tipsy if you don't weigh it down on the bottom shelf
Still, this desk has its place and it's one of the best sellers among visitors to this site.
See the Techni Mobili laptop podium on Amazon.com
A few more things to know before you buy a standing desks on wheels
No obvious place to put a PC tower – Notice the stock photos make no mention of a PC tower with all the attendant cables. If you've got a wired keyboard and mouse, you might find their cords aren't really long enough to reach a PC tower that sits on the floor. I've solved this problem in the past with a night-stand size piece of furniture or shelving underneath the desk, and you may have to get similarly creative.
All of these desks require some assembly from you – most can be put together in under an hour, but you'll probably want a helper (or at least some moral support) when moving large pieces of furniture around.
There is a small but noticeable effect on stability with some desks. This seems to come down to weight – if you put a lot of heavy stuff on your wheeled standing desk, you'll probably end up with something more stable than a non-wheeled desk that isn't loaded down with stuff.
You may still need monitor stands. When standing, you may find you need to elevate your monitor even higher than they can go by default. The good news is, monitor arms have come down in price considerably in just the past few years. Some good choices here are the Mount-It! MI-705 and the 2-monitor supporting VIVO Dual LCD Monitor Desk Mount Stand.
The bottom line
We think standing desks with wheels are absolutely the way to go; they're just as affordable as non-wheeled versions, there's minimal sacrifice to stability, and the increased portability is a huge help every time it's time to change offices at work or re-configure the home office.