IKEA SKARSTA is a solid, adjustable full-size standing desk at a great price
Our IKEA SKARSTA rating
Once upon a decade ago, IKEA graced us with the (awesomely named) JERKER, a standing desk that has maintained a cult-like following despite being discontinued before YouTube was even a thing. The JERKER is still a hot commodity, with Facebook fan groups demanding its return and at least one blog maintained by a JERKER collector. I personally worked at a place (circa 2013) that still had three grungy, aging JERKERs, and some elaborate politics to determine who was worthy of one.
Needless to say, the world was ready for a new, affordably priced IKEA standing desk.
Introducing – the SKARSTA!
IKEA SKARSTA Overview
The SKARSTA is an honest-to-goodness adjustable-height standing desk from IKEA.
Assembly is about what you'd expect from an IKEA product and the SKARSTA is (still!) one of the only adjustable, full-size standing desks available in its price range. The SKARSTA retails for about $240 USD, which is roughly half of what IKEA's motorized BEKANT standing desk will run you. (Plus, the BEKANT has been dogged by complaints about its motor breaking for nearly as long as the BEKANT has existed.)
The height range is between 27½" and 47¼". A lot of standing desks top out around 44″, so if you're on the taller side, you might benefit from the extra few inches the SKARSTA affords you. (Find your standing desk height here.)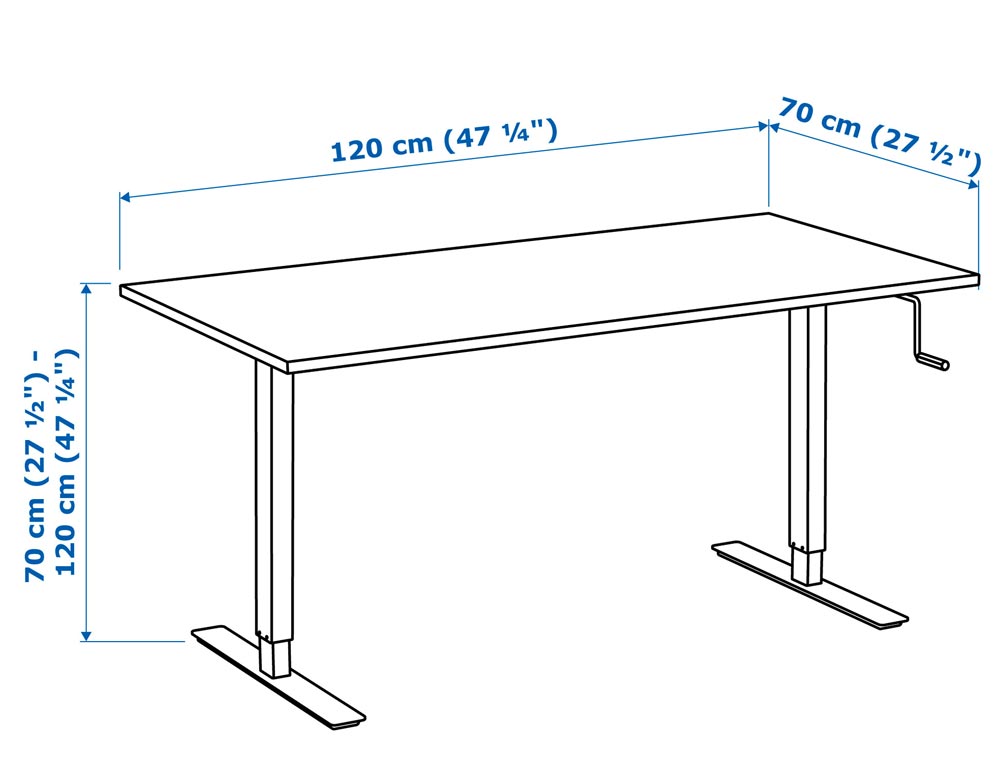 With a width of 47¼" and depth of 27½" (oddly enough, that's also the height range) the surface area of the SKARSTA is on par with a full-size desk. If you don't like the little "podium" style standing desks, or you want the entire desk at standing height, the SKARSTA is an affordable option.
IKEA SKARSTA Pros and Cons
Pros
Cons

Great price
Easy to use crank handle
Fairly stable
47″ is among the tallest standing desks out there

Some users say the crank wears out over time
Only comes in white
Must use the SKARSTA tabletop, can't mix/match with other IKEA tabletops
SKARSTA video review
YouTuber David Zhang put together an excellent 5-minute review of the desk. He identifies a small problem with the top of the desk tilting towards the back due to the weight of his monitor and accessories (about 40 lbs total), and a bigger problem with the crank itself.

IKEA SKARSTA Review: Our Take
We think the SKARSTA is a great standing desk, especially if you have lightweight monitors (or just one, or just a laptop) and few accessories to load it down with.
There's a lot to love about the SKARSTA: its clean and modern look, affordable price, hand-crank for precise adjustments, stable footing, and a generous amount of surface space (it's as large as our sitting desks).
Gettin' cranky
This adjustable desk – like most in its general price range – lifts and lowers with a hand crank. There's no electric option (for that, check out the pricier BEKANT). If you plan to adjust the height of this desk several times a day, get ready for an arm workout. If you don't relish the idea of working your biceps and forearms a few times a day, consider a standing desk height chair.
But here's some good news: the crank can be mounted on the left or the right side, and when it's not in use, you can push it under the desk for a nice clean look.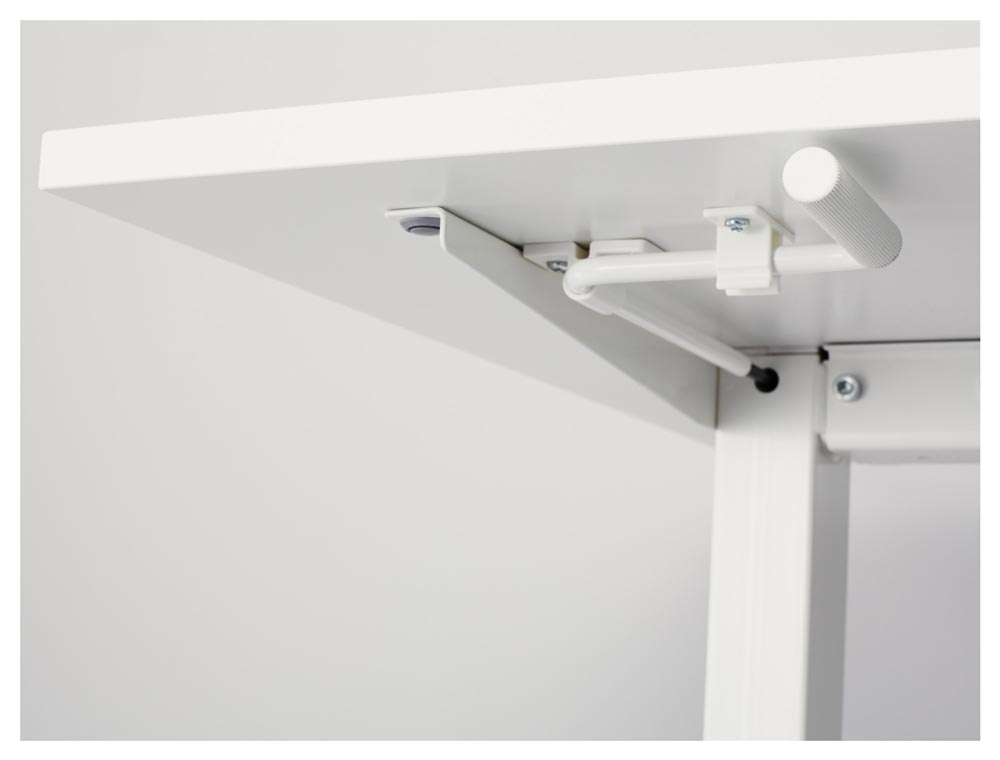 Some reviewers have pointed out that the crank's shaft gets scratched over time.
The degradation of the crank over time is a little worrisome, but we (and many of our colleagues) tend to put a standing desk in a standing position and then leave it there. We don't usually adjust between sitting and standing heights all day long; instead, we just a standing-desk height chair. If this is also you, you might also be less concerned about the crank's durability.
We think the value of the crank is for getting a precise height, and adjusting as needed after a period of use. It's all too common to build a standing desk to a particular height and then realize it's a bit too tall or a bit too low – and with a non-adjustable desk, there isn't always an easy fix. With the SKARSTA, you can fine-tune your height choice until you settle in a happy place.
Wobbliness and shaking
Some wobbliness is to be expected from virtually any standing desk that isn't anchored to the wall in some way. If you're judging shakiness by monitor shake, keep in mind that modern flat screen monitors are pretty lightweight and tend to shake even when placed on a stable, sitting-height desk.
The desk has a 110 lb weight limit, but that's evenly distributed – they don't mean you can stack a few 45 lb plates on one corner and expect it to hold up. 110 lbs is easily enough, however, to hold two flat screens.
SKARSTA desks from around the web
Our rating
We give the SKARSTA 4 stars out of 5.
To earn a 5th star, we'd like to see more color/finish options and an improved crank – the model we saw at our local IKEA was missing the crank entirely.
The SKARSTA table top is particleboard and acrylic paint. A solid wood option would rock our world, like IKEA's GERTON (which we love). IKEA has always been the land of mix and match desks, after all. Only the SKARSTA top is designed to go with the SKARSTA frame, but that's not to say you can't get clever – TopSetup magazine shares DIY steps for combinining a SKARSTA frame with a GERTON top.
The bottom line
The SKARSTA is a rare find: a full-size adjustable standing desk for about $240. You'd be hard-pressed to find a better desk at this price. Most of what's available in this range is either just a frame or a lift, designed to lift only your keyboard and monitor instead of your entire desk.
Shop for the SKARSTA on ikea.com