Standing Desk Buyer's Guide – Desks for all kinds of offices, chairs for all kinds of butts
When standing desks entered the mainstream consciousness a decade or so ago, sitting was quickly derided as "the new smoking". However, scientific support for these claims is flimsy at best. We know that too much sitting is bad, and we also know that standing desks aren't a one-shot cure.
Too much sitting increases heart failure risk and disability risk, and shortens life expectancy, studies have found. But according to an analysis published Wednesday of 20 of the best studies done so far, there's little evidence that workplace interventions like the sit-stand desk or even the flashier pedaling or treadmill desks will help you burn lots more calories, or prevent or reverse the harm of sitting for hours on end.
However, these "best studies" weren't longitudinal – six months long at best – and few were even randomized. (You can read a longer analysis of the studies here on npr.org)
Standing while you work is something you should do because you want to. If you feel you focus better while standing, are encouraged to walk around more frequently, or interact with colleagues better when you're eye-level with them, then there's no reason not to switch to a standing desk. Just don't expect a miracle. Switching to a standing desk is just one piece of a larger healthy-living puzzle.
It's totally fine if you want to try a standing desk before you re-arrange your home office or spend some political capital at the office to get one. Here's our short guide to getting started standing up, including some DIY standing desk ideas you can use as inspiration for constructing a standing desk out of common household (or workplace) objects. If it's not for you – no big deal.
If you're an office manager on a budget or just up against a spending limit, here are a few of our favorite budget picks.
On this page: some of the newest standing desks for 2018 and a few old favorites. We picked the best of the best for this ultimate standing desk buyer's guide.
Best adjustable standing desks for 2020 (and beyond)
Hands down, our favorite kind of standing desk is the one where the whole desk gets lifted.
Most of these desks are 4′ or 5′ wide, a typical "full size" desk width. There's room for multiple monitors, any kind of keyboard, a mouse with a full 8″ (or more) of space, papers, notebooks, and any accessories you might want to accent your space with.
Models with hand-cranks are generally easy to adjust (but you'll be turning that crank for a few minutes to go from sitting to standing or vice versa). Models with a motorized lift tend to run about $150-$300 more. We think a motor is a "nice to have" but not an essential – and virtually every motorized desk has someone out there reporting that the motor broke too soon. Rather than lift and lower the entire desk any time you want to sit or stand, we think it's better to leave the desk at a standing height that's comfortable for you and invest in a standing-height chair. If you leave the desk at standing height, the lifting mechanism becomes something you only use once in a while.
These are full-size desks, so they're about as much fun to move as an ordinary desk. The lack of wheels adds stability, but if you think you'll need to scoot your standing desk around, you should consider a standing desk on wheels (which are totally a thing!).
Our picks prioritize the following features:
generous surface space
overall stability
a generous height range
no crossbars or shelves to get in the way of your feet
special use cases (like desks designed to fit into a corner)
MultiTable Height Adjustable Crank Standing Desk – best standing desk for most people
* A STANDING DESK GEEK FAVORITE * 
We think the MultiTable adjustable crank standing desk is the best standing desk for 2020.
The table is spacious, the legs are strong and stable, setup is easy, and the desk comes in a variety of widths so you can choose the one that suits your space. Whether you're outfitting a professional workspace or your home office, you can't go wrong with this desk.
There are a lot of hand-crank desks on the market nowadays, but we think the MultiTable beats them with its taller max height (47.75″), its easy-to-hide (or remove) handle, and the range of sizes it's offered in. If your office has need for a variety of desk sizes, you can still get them all to match by ordering MultiTables.
MultiTable makes a ton of different standing desks (including electric options) to suit a variety of needs, and they'll even take your bulk or custom order if you reach out to them through their website.
Quick stats
Tallest height: 47.75″ (should suit people up to about 6'6″)
Shortest height: 27.5″ (typical sitting desk height is between 27″-29″)
Width at widest point: multiple widths between 3.5′ and 6′ wide
Depth: 29″
Colors: 5 choices, including a variety of wood looks
Made in the USA
Advantages
It's a full-size desk! Even the smallest model, at 40″ wide, is larger than just about any riser or converter on the market. This desk can also hold up to 130 lbs, which is 70 less than the Ergo Elements desk but still leagues ahead of what desk risers can hold.
The handle slides almost completely under the table top and it can be removed when not in use and set aside. Depending how fast you can turn it, it'll take about 30-60 seconds to raise/lower the desk.
The surface is 3/4″ thick thermally fused laminate top, but it's available in solid black, solid white, and a variety of natural wood looks.
Drawbacks
We think this desk is fantastic, but if there's anything some users might not like it's the laminate top (as opposed to real wood).
More MultiTable reviews
See the MultiTable on Amazon.com
Ergo Elements Adjustable Standing Desk – another great choice with some nice extras
The Ergo Elements is another excellent crank-adjustable standing desk. It's stable, sturdy, and while it doesn't reach quite as tall as the MultiTable (45″ vs. the MultiTable's 47.75″ max height) it's still a great desk that can accommodate a variety of heights. The curved front edge makes it a little easier to place a mouse at a comfortable, close position and the surface (available in 4′ and 5′ widths) is wide enough for most dual and triple monitor setups.
Quick stats
Tallest height: 45″ (should suit people up to about 6'3″)
Shortest height: 27″ (typical sitting desk height is between 27″-29″)
Width at widest point: 5′ (there's also a 4′ wide version)
Depth: 29″
Colors: 3 choices
Advantages
It's a full-size desk! At 5 feet wide, there's easily room for two 27″ widescreen monitors and a laptop, or a mix of monitors/laptops. No matter how bulky your keyboard or wrist rests, they should fit. This desk can also hold up to 200 lbs, which puts it leagues ahead of any riser or converter we've seen.
The Ergo Elements desk is beautiful and the hand-crank is about as effortless as they come (you still have to twirl it for a minute or two to switch between standing and sitting heights). There's a subtle, smooth curve along the front of the desk that encourages good posture and makes it a little easier to position a mouse closer to the user's body.
Furthermore, the Ergo Elements desk a great choice for professional offices because it leaves the choice of whether to sit or stand up to the individual employee – no need for employees to request special equipment, no moving heavy risers around, and the height is adjustable to a precise level. And since it's a full-size desk, any ergonomic keyboards, wrist rests, etc. your employees might need should fit. Many risers (the kind that sit on top of an existing desk) can only accommodate a standard keyboard or smaller, or they skimp on mouse space.
There's a little cutout for cords! This is a nice touch for those who like an organized desk.
The US-based customer support is responsive and helpful. Ergo Elements is located in San Francisco and is available on weekdays.
Drawbacks
The top surface is a pressed particle wood (most surfaces in this price range are). Unfortunately, this means the corners are more likely to arrive crushed or damaged. Ergo seems to be good about sending new tops when this happens, but the whole process is wasteful and frustrating. If there was a manufacturer making actual wood surfaces in this price range we'd change our recommendation, but for now we seem to be stuck in a "pressed wood" world.
Users with limited mobility may have trouble turning a crank for a minute-plus, but here's a bit of good news: they make a motorized version, too!
See the Ergo Elements adjustable desk on Amazon.com
ApexDesk Elite Series 71″ electric height adjustable desk
For most users, we think motors are unnecessary. If the motor dies, you'll be stuck with your desk in one position while you wait on a repair or replacement (and there's never a good time for dealing with that). Even with a motorized desk, you still have to wait while the desk lifts/lowers. So, rather than lift/lower the whole desk every time you want to switch between standing and sitting, we think it's much better to pull up a standing height chair. It's far less disruptive to your work and quite natural to hop on/off the chair all day long.
But you know your needs better than we do – and if you need an electrically lifted standing desk, the ApexDesk is a solid choice.
Quick stats
Tallest height: 48″ (should suit people up to about 6'6″)
Shortest height: 29″ (typical sitting desk height is between 27″-29″)
Width at widest point: 71″ (just under 6 feet)
Depth: 33″
Colors: 6 choices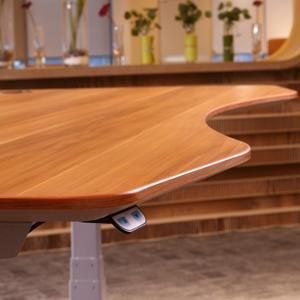 Advantages
Save your presets! ApexDesk should play this feature up more, because it's awesome. ApexDesk Elite allows you to save heights and return to them later with the press of a button.
The ApexDesk is electrically lifted, so you don't have to turn a crank.
The curve along the front of the desk lets you stand closer in to your work, which many users find more comfortable. The ApexDesk comes in six colors, including a few wood-tones (the surface itself is not wood, it's a scratch-resistant laminate).
At 225 lbs, this desk has a high weight capacity compared to most desks we've reviewed. If you have heavy equipment, this might be the desk for you. Many desks hold as much as 100 lbs less than the ApexDesk.
Pre-installed cable grommets help keep your cables tidy.
Responsive customer service will send you a replacement tabletop if yours is damaged in shipping.
Drawbacks
The motor makes some noise when you adjust the desk. This is one of our biggest reasons for disliking motorized desks in general (we don't like feeling self-conscious about adjusting our desk at work).
Lowest height is 29″ – and this is too high for some folks. Typical sitting desks are anywhere from 27-29″, with the higher end of that range being somewhat more rare. (As a tall person who likes to sit with my legs folded in my chair, I prefer a 29″ sitting desk – but plenty of people find 29″ just an inch or two too high.)
The surface can chip. Some reviewers report that the surface arrived chipped (on the bright side, ApexDesk will send you another one with 2-day shipping if you contact them).
The ApexDesk Elite Series is probably the priciest desk we've recommended. ApexDesk makes a more budget-friendly alternative called the ApexDesk Vortex, but the Vortex doesn't allow you to save preset heights. We think if you're getting an electric desk because you want to adjust it often, then you should invest in one that can save your presets.
More ApexDesk Elite Reviews
See ApexDesk Elite on Amazon.com
Stand Up Desk Store's Standing Corner Desk
Desks designed to go in corners is a newer trend (and a welcome one, for those of us who have done time in tiny cubicles). This one's smaller than most hand-crank desks but hey, it fits in a corner!
Quick stats
Tallest height: 45.25″ (should suit people up to 6'4″)
Shortest height: 29.5″ (typical sitting desk height)
Width at widest point: 59″
Depth: 29″
Advantages
The built-in monitor shelf is 5.5″ above the work surface, which eliminates the need for a separate monitor stand for most users. The frame is steel and the desk is reasonably sturdy. This desk is on wheels, so it's more portable than most standing height desks.
Drawbacks
It's rather small compared to other lifted desks and it only holds one monitor, but that comes with the corner desk territory. The desk is on wheels, so it gets around more easily than many standing desks, but the desk is slightly more shaky as a result.
See the Standing Corner Desk on Amazon.com
Best standing desk converters for 2018
These desk-like platforms sit on top of your existing desk. Add one to your workstation to elevate your keyboard, mouse, and monitors to a standing height.
Since this kind of desk is always in the "up" position you'll need either a standing desk height chair or you'll need to move all your equipment to a lower work surface. We highly recommend a tall chair for standing desks that don't adjust, because there will be days where you're fighting a cold or just not up to standing all day. The #1 reason we've seen people quit their standing desk entirely is because they had no way to adjust it or rest while using it. See our latest standing desk chair recommendations here.
Here are a few standing desk stand-outs in this budget-friendly category.
Readydesk 2 – an easy-to-assemble, customizable standing desk converter
* A STANDING DESK GEEK FAVORITE * 
Here it is: the grandpappy of standing desk converters. It's all downhill from here.
The Readydesk 2 dominates our collection of standing desk converters for 2020 for one simple reason: you can adjust the monitor and the keyboard heights independently. This is super important. First of all, it means this desk suits a wide range of heights (from about 5'3″ to about 6'3″, depending on how tall the desk you put it on is). Second, and possibly more importantly, it puts your monitor higher up, where it belongs.
The vast, vast majority of products in this category expect you to plop your monitor on the same surface you put your keyboard and for most people, that results in the monitors being too low. Wait, really? Yes, really – when we slouch in a chair we think it's fine to place monitors on the same surface as our keyboards, but when we stand up, we usually have better posture and suddenly the monitor seems too low. Not a lot of people realize this so they buy standing desk platforms that put the monitor and keyboard on the same surface and then they end up having to elevate the monitor somehow (or live with a poor ergonomic setup).
And, if that's not enough, the keyboard platform is wide enough and deep enough to hold an ergonomic keyboard. The keyboard platform is 31″ wide and 11.5″ deep. This is also something so many converters and risers fail at – the vast majority of them have dinky keyboard platforms that barely leave you enough room for your mouse. We think a mouse deserves a full 8″ of width (a typical mousepad is 8″ wide) to be comfortable, so unless you're using a trackball or know you can get by with less, we think most people will be disappointed in anything less than 8″ of space for their mouse. The keyboard platform is also large enough to hold most laptops.
It's butt simple to put together and it looks awesome. If you don't need the up-down capability of a riser, this is the standing desk converter to get. It's made in the USA!
See the ReadyDesk 2 on Amazon.com
Stand Up Desk Store Desktop Converter with Monitor Shelf
ALSO PRETTY GOOD
We've recommended the Stand Up Desk Store Converter before – it's budget-friendly and the elevated monitor platform is generally better for ergonomics than putting the monitor and keyboard on the same surface.
Advantages
This is a rare "two platform" design that lifts your monitor(s) up higher than they would be if they shared the platform with your keyboard. When we sit, we tend to lean or slouch so we don't notice (as much) the effects of placing a monitor on the same surface as the keyboard. When we stand, however, we tend to need our monitors lifted several additional inches. Whether 4″ of height difference is enough for you depends on how tall you are – most users in the 5'8″ – 6'1″ range should be happy with about 4″ of lift, but taller users may find their monitor too low.
This desk's large surface can be anywhere between 11.5″ and 16.25″ tall (adjusted in 1″ increments) which should suit users between about 5'6″ and 6'4″ (depending on the height of the desk you place it on). The smaller monitor surface is elevated an additional 4″. At 32″ wide, this desk is just barely not wide enough for two 27″ widescreen monitors, but it is wide enough for a variety of smaller monitor size combinations.
The keyboard/mouse platform is huge at 32″ wide x 23.5″ deep. A lot of standing desk converters and risers are skimpy on keyboard space, but this one's big enough to hold even the largest ergonomic keyboard while still giving you over 8″ of space for your mouse.
This converter is great for offices where you can't swap out any of the existing equipment, home office buyers on a budget, and people with limited space.
Drawbacks
The top shelf is shallow at just 8.5″ deep. That's not much larger than many monitor bases, so measure carefully before you buy. Also, this desk is not great for short people. Since the desk's lowest setting is still 11.5″ tall, if you're under about 5'7″ you may find that to be too tall when placed on a typical 29″ desk. One last drawback – the top shelf's weight capacity is just 15 lbs, so unless your two monitors are very lightweight, so this is effectively a one-monitor desk.
This desk favors single-monitor setups and large keyboards. Measure your stuff before you make a purchase!
See this Standing Desk Converter on Amazon.com
Miracle Desk standup desk – for when all you need is a keyboard platform
If your monitor(s) are mounted on arms and all you need is a standing desk converter for your keyboard and mouse, the Miracle Desk might be what you're looking for.
At 15″ deep some users are able to squeak by with a monitor and keyboard on this same platform, but we think this is poor ergonomics. When you're standing, you don't want your monitor and keyboard on the same surface because the monitor will almost certainly feel too low when the keyboard is at a comfortable height.
Advantages
We like this one over some similar competitor models because of its width: at 36″ wide, and 15″ deep you can probably squeeze a notebook or a cup of coffee up there, too.
And if for whatever reason you want to use it for monitors, The Miracle Desk should be able to hold two 27″ widescreen monitors side-by-side and an ordinary keyboard plus mouse, but not an ergonomic "split" keyboard, as most run too deep to fit on this surface when there are also monitors on it. (For example, my Microsoft Natural Ergonomic 4000 keyboard is 11″ deep, and my 27″ monitor's base is 7.5″ deep, which exceeds the Miracle Desk's 15″ of depth by a couple inches. Boo.)
If you offload your monitor(s) onto a desk-mounted monitor arm, though, then you'll get the Miracle Desk's entire 36″ wide x 15″ deep surface for your keyboard and then some, which is plenty of space for even a deep ergonomic keyboard (such as this wireless keyboard and mouse combo by Logitech), leaving space left for a normal-size mousepad and a notebook.
The Miracle Desk is 12″ tall, which works for most people between 5'6″ and 6′ or so. If you're taller than that, there's a tall version that adds 3″ of additional height (or check out the Mount-It! desk, which stands between 12″ and 17.75″ tall). They also make a folding version for both the default height and the tall height, and it comes in several finishes.
Drawbacks
It's not height-adjustable, which we think is the biggest drawback of this particular keyboard lift. However, it's large size is enough to make us look the other way – assuming the height it's at works for you. It's 12″ tall, so if you're about 5'8″ (give or take a few inches, and taking into consideration the height of your keyboard) you might find it to be just right.
This desk favors setups that are wider (up to 36″) and shallower (no more than 15″ deep). Measure your stuff before you make a purchase!
See the Miracle Desk on Amazon.com
Mount-It! Standing Desk Converter – an adjustable option with more depth
Like the Miracle Desk, the Mount-It! sits on top of your existing desk and stays set to the height you adjust it to (somewhere between 12″ minimum and 17.75″ maximum).
Advantages
It's 32″ wide x 22″ deep, so it's 4″ narrower than the Miracle Desk (enough of a difference to rule out a dual 27″ monitor setup) but it's 7″ deeper, enough to accommodate ergonomic keyboards that won't fit on the Miracle Desk. The legs fold up underneath which makes it more portable than the similarly-priced Miracle Desk, and its adjustable legs give it the user the ability to fine-tune its height.
This desk converter can be 12″ tall at its shortest and 17.75″ tall at its tallest. If you put it on a 29″ tall desk, then it should suit tall users between 5'8″ and 6'1″ or so.
Drawbacks
Like all products in its category, your keyboard and your monitor will sit on the same surface. That's fine on a sitting-height desk but some people find they naturally stand taller than they sit – and suddenly their monitors feel too low. We think this desk has a pretty narrow range of heights it's good for: about 5'8″ – 6'1″, depending on the height of the desk it's placed on. Any taller and you'll be taller than the monitor (like the model they used for their product shot below).
This desk favors setups that are narrower (up to 32″) but deeper (up to 22″). Measure your stuff before you shop!
See the Mount-It! Adjustable Tabletop on Amazon.com
Best adjustable desk converters/risers
Adjustable desk risers (or adjustable desk converters) sit on top of your existing desk and easily alternate between a "sitting" position and a standing-height position. They've got assisted-lift mechanisms so lifting is generally easy and smooth, and they're strong enough to hold multiple monitors and all of your accessories.
The main drawbacks to this design are:
the sheer weight of the unit itself (usually around 40-50 lbs)
lower weight capacities vs. a full-size standing desk
the loss of desk space under the monitor/keyboard lift apparatus
a general shortage of space on the lifted platforms – usually you get enough for your monitors, keyboard, and mouse and that's it
some keyboard platforms are pretty dinky – ergonomic keyboards are a no-go on all but the largest models, and your mouse space might be limited
at sitting height, your keyboard and monitors might be an inch or two higher than they used to be
Still, we've identified a few favorites in this category. These risers all tend to be large, because we think you deserve a normal amount of space for your mouse (around 8″ of width) and enough space for two monitors.
FlexiSpot standing desk risers – a space-saving design in a variety of widths and depths
Advantages
The FlexiSpot comes in a variety of sizes (including a corner-friendly model), but the most generously sized models are the 47″ wide model and the 35″ model (both of which have the same size keyboard tray). This is one of the few converters that can accommodate a split ergonomic keyboard.
The FlexiSpot desk arrives mostly assembled, all you do is attach the keyboard tray and get the whole thing into position on your existing desk. You can also use it without the keyboard tray and place your keyboard on the top platform, if you prefer.
Lifting and lowering is easy: you don't need a 47″ inch arm span, as there is just one lever (it's on the right side). The lift action itself is performed by gas cylinders, rather than springs (like Varidesk models), which gives the FlexiSpot an overall easier lift.
Also, unlike some desk risers (such as the popular Varidesk models), the FlexiSpot models stay within their own footprint when lifted. This helps for stability and it helps cut down on how much space the riser requires. It has 12 levels of height, ranging between 5.9″ and 19.7″ tall, which should suit users up to at least 6'5″ tall.
Drawbacks
The usual adjustable desk riser drawbacks apply here, plus a few unique to the FlexiSpot. The keyboard tray has an inward curve to it, which cuts into precious keyboard real estate. Those of us with ergonomic keyboards have a hard time finding standing desk solutions (besides full-size standing desks) that can hold our gigantic keyboards, and every inch counts.
More FlexiSpot reviews
See the FlexiSpot 47″ on Amazon.com
See the FlexiSpot 35″ on Amazon.com
Other good desk riser choices
There's a lot to pick from when it comes to desk risers. Our choices in this section stand out at one thing or another, whether that's having enough room for an ergonomic keyboard or having a particularly small footprint.
X-Elite Pro Height Adjustable Desk Converter – for those who want a singular, large surface for keyboard, mouse, and monitor(s) 
Mount-It! Sit-Stand Desk Converter – this one stands out for having a BIG keyboard platform (27″ wide x 12″ deep), which is pretty rare (most are around 9″ deep) and it comes with a single monitor mount so the top surface is free for your laptop screen or other stuff
Best standing desk accessories
There are two more things we think every standing desk needs to be truly enjoyable: a standing-height chair and an anti-fatigue floor mat.
Boss drafting stool – a high quality, budget-friendly standing desk chair
This mighty stool has been our go-to recommendation for years now. It's nicely priced and it holds up well over time. The seat is firm and the back is supportive. It's not so comfortable that you'll forget to stand back up, and that's the point – it's just a place to take a load off your feet, not set up camp. The seat goes up to 34″, making it suitable for even tall users (we met one 6'4″ guy who seemed happy with his).
After a year or so of daily use the cushion started to sag a bit along the top edge of the seat, but it was a minor imperfection (more like the chair was "broken in" than anything else).
See the Boss drafting stool on Amazon.com
HAG Capisco – a deluxe choice that keeps you moving
Lean, twist, stretch, move – that's the whole idea behind the HAG Capisco active chair. You can even sit on it backwards! The arm rests are designed to stay out of the way until you're ready to lean back and take a rest. While "perched" on this chair, you can rest your feet on the little footrests over each caster wheel. The chair is designed for use with standing desks, so it gets tall enough for most people.
This 30+ year old design is normally sold in bulk to facility managers looking to outfit an entire office, but Capisco chairs are starting to show up at retailers like Amazon.com.
See the HAG Capisco active chair on Amazon.com
More standing desk chair recommendations
Topo mat by ErgoDriven – the best standing desk anti-fatigue mat
There are tons of anti-fatigue mats on the market and we've seen it all: rolled corners, chunks torn out, thick layers of crumbs that seem to have become part of the mat, you name it. The Topo Mat is our new favorite, thanks to its ridges and bumps that are designed to encourage active standing (and little foot massages!). The mat itself is just the right mix of squishy and supportive.
See the Topo by ErgoDriven on Amazon.com
Conclusion
Whew, we made it! We hope you enjoyed our hand-picked standing desks and standing desk accessories. Browse our archives for more standing desk, chair, and accessory recommendations and let us know in the comments what works for you.