The best active chairs and stools for standing desks (2018)
There's chairs, and then there's active chairs. What's the difference?
A chair is any old arrangement of cushions and/or mesh, comfy enough to melt into for several hours at a time. Some standing-height chairs are exactly this: a chair, jacked up a couple feet.
Active chairs engage your muscles. You might be sitting, but you're also supporting yourself with your own back and core. Active chairs usually take the form of a stool or saddle. Some active chairs let you tilt the chair itself, others are permanently upright.
Active chairs are sometimes called "perching" chairs. Perching is somewhere between sitting and standing, and many people with lower back problems find the perching position puts less strain on their back.
Active chair advantages
Engage more muscle groups when you sit – rather than rely on the chair to support your entire body, you do some of the work yourself
Easier to switch to standing
Shift, twist, wiggle, reach around – it's easier to move while you sit
Burn more calories
Strengthen your back and core muscles while you sit
Active Chairs for Standing Desks Compared
The chairs in this article are a little different than your average standing desk height chair. Because they're active chairs, they're designed to make you do some of the work of supporting your body while you sit. Presumably you switched to a standing desk for any (or all) of the myriad benefits of doing so, but standing all day can be harmful in its own ways (and quite tiring).
The ideal setup is one where you can easily switch between sitting and standing throughout your work day.
That's why we think every standing desk setup should include a tall, standing-desk height chair or stool. Rather than raise and lower your entire workstation when you need a break, we think it's better to rest in a chair designed for the purpose. Keeping your desk at standing height is also good for encouraging you to switch back to standing – you're more likely to go stand if you don't have to first crank your desk back up.
Overall top pick: HÅG Capisco ergonomic office chair
Meet the HÅG Capisco. This eye-catching, unusual chair is designed to keep you moving throughout the day.
Above: the HAG Capisco Puls model.
The design may be nearly 30 years old, but this often-copied, never-duplicated design has stood the test of time.
You sit "on" the Capisco, rather than "in" it, and rather than letting you melt into the cushions for hours on end, the Capisco encourages you to twist, reach, and move. The Capisco is sometimes referred to as a perching chair, because you can perch on it, but you can also sit in it like a normal chair as well. That makes it unique among our recommended active chairs – the rest of the chairs in this article are stools, not chairs, but the Capisco can function as both.
There are many ways to sit on the Capisco (including backwards and sideways!) but no matter how you choose to sit, you'll engage more muscles than you would in an ordinary chair. During typical use the Capisco functions more like a stool – your weight is held by the saddle and your feet, and less so by your butt and back.
The back of the Capisco isn't mean to fully support your back all day – that's what your core muscles are for. The armrests are out of the way until you lean back for a rest. The chair works with either a sitting-height desk or a standing-height desk. When fully extended for use with a standing-height desk, your feet rest on footrests sculpted into the chair's own legs.
Every leg of the HAG Capisco is tipped with a comfortable footrest.
Three Capisco models to pick from
There are three variants on the HÅG Capisco design: the Capisco, the Capisco Puls, and the Capisco Puls Plus.
The Capisco is the original. It has the thickest padding and the widest pommel (the part of the sattle that goes between your legs). The Capisco Puls is a more affordable update on the design – it features less padding and a narrow pommel, allowing users to sit with their legs closer together. Finally, the Puls Plus is like the Puls, but with a fully padded seat. Think of it as a hybrid between the Capisco and the Capisco Puls.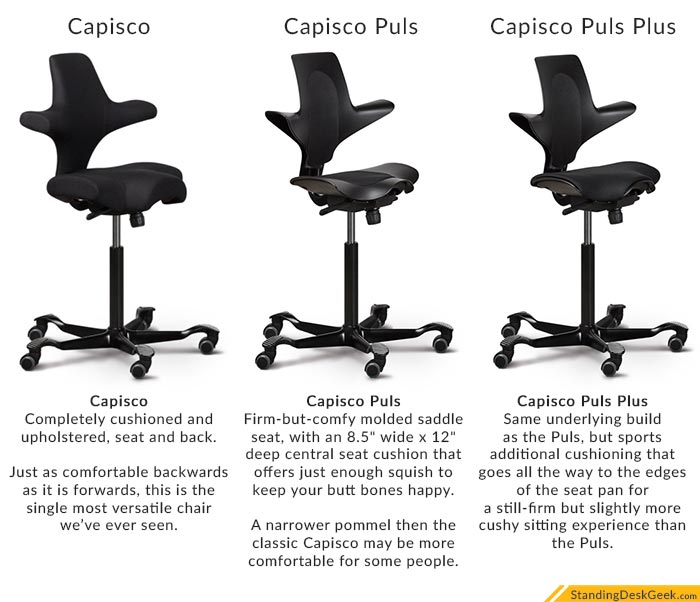 How it feels
The seat and back are firm, regardless of which Capisco you choose. It's the opposite of the "butt hammock" popularized by the Aeron chair. The seat is sculpted like a saddle, so if you find the undersides of your thighs dig or sink into the edges of traditional cylindrical stool chairs, you might enjoy the Capisco's sculpting.
Just like adjusting to a standing desk in the first place, active chairs like the Capisco also have their own adjustment period where your back and butt get used to doing more work while you sit.
For one user's in-depth review, check out "A Year with a HAG Capisco" on allartburns.org
HÅG Capisco pros
Designer look
Sit actively – encourages motion and movement
Makes you use your muscles throughout the day
Easy assembly – just four parts to put together
Works at normal height, too – not just for standing desks
Highly adjustable – seat height (x" – y"), height of chair back, backward tilt resistance, lock tilt resistance, seat pan can be adjusted forwards and backwards
10 year warranty
Good for more than just computer work – in particular, a lot of musicians seem to love this chair!
HÅG Capisco cons
HÅG only has showrooms in major cities so it might be hard to sit in one before you buy
Premium features come with a premium price tag
Might tempt you into sitting more than some of our other options
Where to buy a single HÅG Capisco chair
The best place to buy a Capisco chair right now is Fully.com.
Fully sells all Capisco models, with the option to customize the upholstery, color, and height of the lift.
You can also purchase a shorter lift, a foot rest, and/or a foot ring when you shop at Fully.com.
Amazon also sells all three versions of the Capisco, but only in black – and without any accessories.
Best standing-height stool: Muvman Sit-Stand Stool
If the Capisco chair is a bit too much chair for you, you might consider a swivel stool instead. You can't really slouch into a stool, and if your butt starts to get uncomfortable (which it will after a while), that's your sign that it's time to return to a standing position.
The Muvman Sit-Stand Stool is a deluxe, standing-height swivel stool.
The cushion is designed to pad your butt bones while you lean back for a standing break.
The Muvman is marketed as a perching stool, after the position it encourages your body to take while you use it. Some people call this position "sit-stand" (hence the stool's name). There's a handle on the back so you can carry this 14 lb stool with you wherever you go.
Muvman Sit-Stand Stool pros
360 degree tilt range for active sitting
Keeps you at standing height, so you remain eye-level with customers or your standing desk monitor
Support yourself with your hamstrings and buttocks – takes pressure off your back
20-33″ seat height range
The seat is angled 4 degrees forward, so it's more like you're leaning into it a bit rather than just sitting on it
Encourages movement throughout your day
Stable and strong – supports up to 265 lbs
Soft cushion and flexible seat edge to minimize pressure on legs
Non-slip, non-scratch base 
Built-in handle for easy portability
This diagram from Muvman highlights our favorite feature of this stool: the cushion is flexible (yet supportive), so whether you take a traditional sitting position, or adjust its height so you're somewhere between sitting and standing, the chair can lean (and the cushion can bend) to support your desired position.
Muvman Sit-Stand Stool cons
Requires an adjustment period to "perching" – possibly as long as several weeks
If there's anything to beware of, it's that a stool is really just that: a stool. It's not a chair, and you're not going to be able to let your body sink into it for a good hearty rest.
Best budget standing-height stool: Ongo Stand Ergonomic Office Stool

Some folks call the Ongo Stand ergonomic office stool a budget alternative to the Muvman, since its MRSP is nearly half the Muvman's with few sacrifices. The Ongo Stand is marketed towards people who need to stand at work as a way to achieve "supported standing".
With a height range of 11.5″ (24″ – 35.4″) the Ongo Stand is suitable for nearly everyone
Like the Muvman, the Ongo Stand is height adjustable and suitable for standing desks, and it swivels, making it great for active sitting. It features a soft cushion but, like any standing-height stool, isn't really meant for relaxing and sitting still. 
The Ongo Stand's forward lean makes it so you don't really "sit on" it, you just sort of "perch" on it.
Ongo Stand pros
Keeps you at standing height – stay eye-level with customers or your standing desk monitor
Support yourself with your hamstrings and buttocks – takes pressure off your back
24-35″ seat height range – about 2″ taller at the extremes than the Muvman
Microfiber fleece seat
Base design doesn't interfere with your foot placement
11 lbs make the Ongo Stand easy to carry 
Ongo Stand cons
The edges are designed to be soft, but users with larger thighs might notice them
There's definitely an adjustment period to perching – possibly as long as several weeks
While the base's legs are out of the way of your feet, the base's legs may pose a trip hazard
No carry handle like the Muvman, so if you plan to move the stool frequently you might miss the handle
Where to buy Ongo Stand
Gaiam Adjustable Balance Ball Stool

Here's a clever idea: take one of those inflatable yoga balls, cut it in half, and stick it on a standing-height stool! If you love sitting on a yoga ball, you might love the Gaiam adjustable balance ball stool!
It's just like sitting on a yoga ball, minus the squeaky fart noises of your shoes rubbing against the lower hemisphere of the ball (not that I know anything about that phenomenon).
This balance-ball stool hybrid comes in a variety of heights and colors, so be careful which ones you choose – only the black and granite colors come in the full 33″ height you'll (probably) need to make it work with a standing desk. 
Gaiam adjustable ball seat pros
Casters for easy gliding
Lockable feet for preventing easy gliding
Circular foot rest for your feet
Challenge your core muscles while you sit
Anti-burst ball
Adjustable between 18″ and 33″ tall – so you can use it at a sitting or a standing desk
Pump included!
Gaiam adjustable ball seat cons
Rubber seat doesn't give your butt any ventilation – you'll want to switch it up regularly to get some airflow
The initial setup is a bit laborious, since you have to inflate the ball yourself
Sitting on a ball isn't for everyone – this is one of those you either love it or you hate it things
Focal Upright Locus Seat with footrest platform
Our last active chair is the Locus Seat by Focal Upright. The Locus Seat is a leaning seat (it can still rock side to side and back to front) but what really makes it unique is the angled anti-fatigue platform.
The Locus Seat is designed to go under your standing desk and has space for both normal standing and leaning.
The platform is made of a mushy but supportive anti-fatigue material, so whether you're standing or leaning, your feet are getting some much-needed support. The seat itself can be adjusted to suit heights from 4'11" all the way up to 6'8″ (max. seat height is about 45″) and weights up to 300 lbs.
Locus Seat pros
Stand with your body bent about 130 degrees which takes pressure off your spine and nearby muscles
Side-to-side and back-to-front movement reduces pressure points and keeps you moving without becoming a distraction
Engages your abs and core muscles
Suitable for a large range of heights – 4'11" to 6'10"
Sloped anti-fatigue footrest reduces stress on your feet
Seat post folds and there are wheels on the footrest – easy portability and storage
3 color options – black, red, and citrus
Locus Seat cons
The seat doesn't work without the foot rest
Reduces under-desk storage space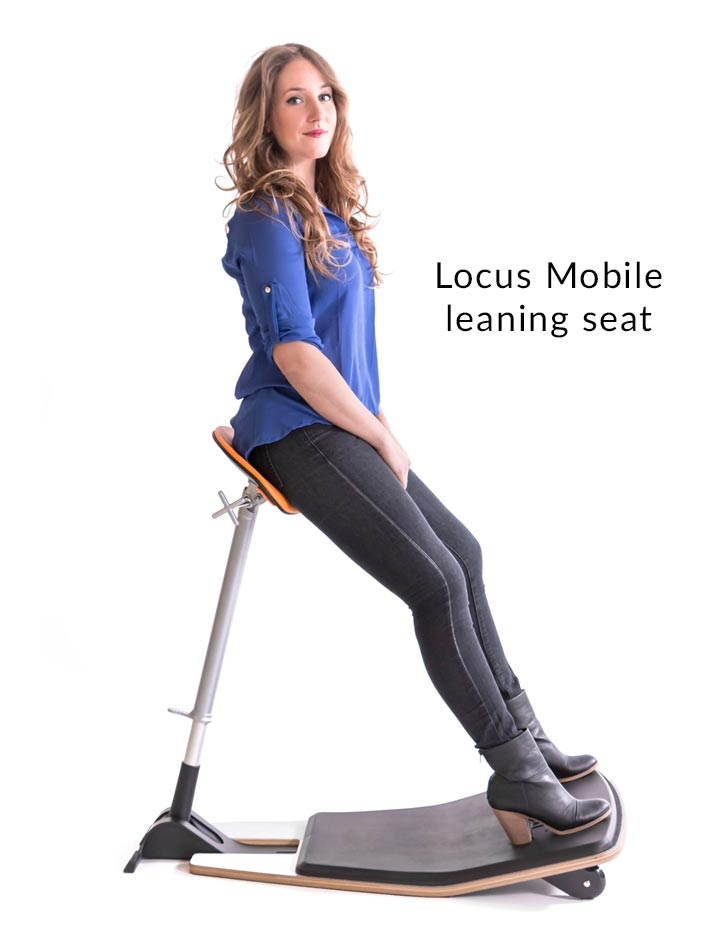 The thing we love about the Locus Mobile seat is the way the seat moves and pivots with you. The overall feeling is that you're not totally supporting your own weight, but you're still standing and moving. The sloped footrest and seat work together to create a pleasant working experience.
And there we have it, folks – the best active seats for your standing desk!