Stand Steady X-ELITE PRO vs. Varidesk Pro Plus 30 adjustable standing desk platforms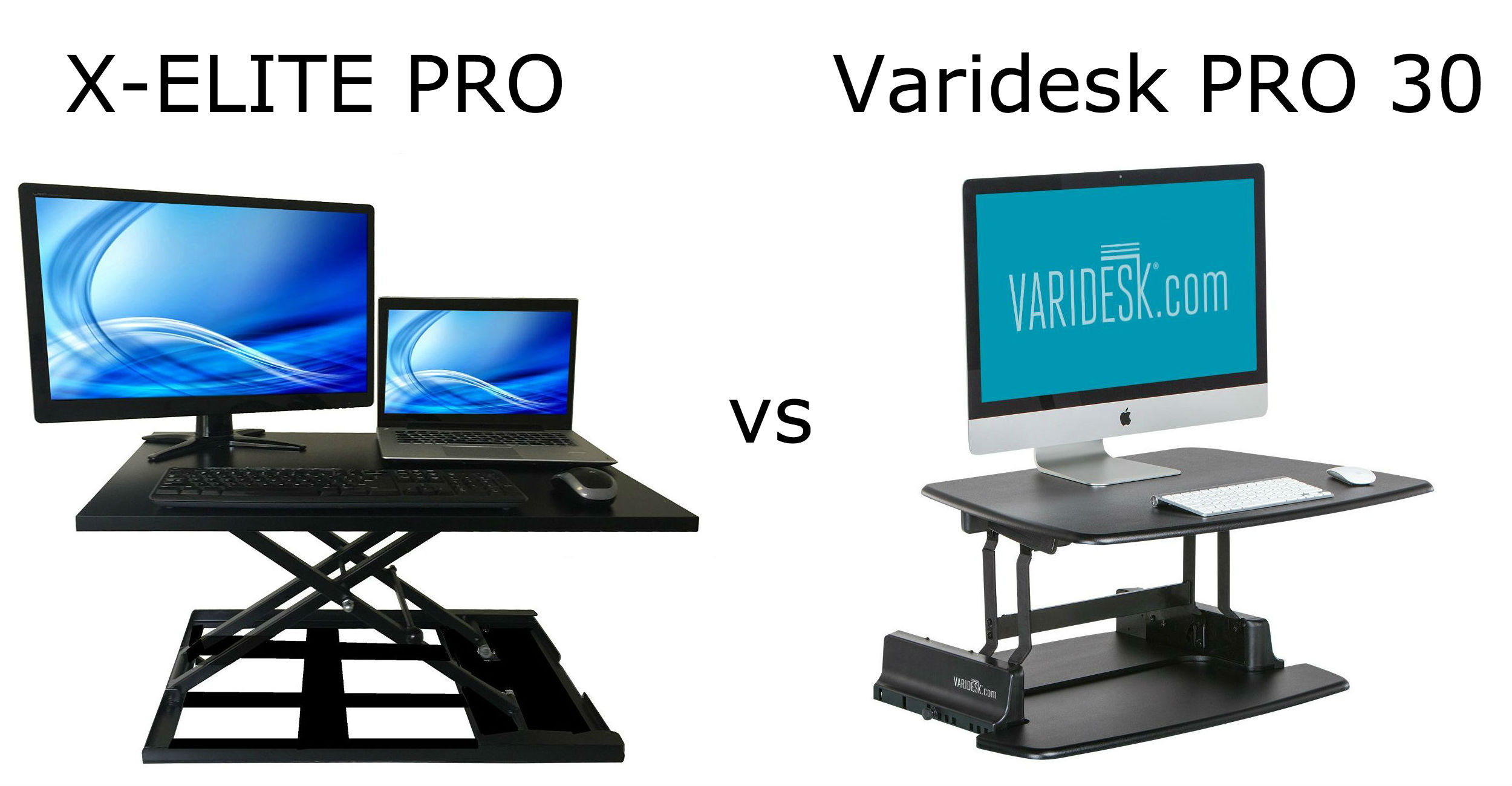 An adjustable riser standing desk converts your existing desk into a standing desk. Standing while you work (even periodically) has many proven health benefits – improved cardiovascular health, energy and mental boosts, plus potential reductions to back pain.
If you can't convince your boss to give you a fully-fledged standing desk, or you can't squeeze one into your home office, these adjustable-height desks are the next best thing.
Today, we're comparing two similar adjustable desks: the Stand Steady X-Elite Pro and Varidesk Pro 30. They're both solid choices, but separated by about $100 in price and a few key features differentiate them.
How they work
Both of these desks are similar in price, size, and functionality.
They sit atop your existing desk and support your monitor(s) and keyboard, turning any ordinary desk into a standing desk. When you get tired of standing, switching it back to the lowered "seated" position takes just seconds.
Video demos!
This minute-long video from Stand Steady shows how easy it is to adjust the X-Elite Pro:
And this 20-second video shows you how easy it is to adjust the Varidesk Pro 30:
Stand Steady X-Elite Pro vs. Varidesk Pro 30 comparison
| | X-Elite Pro | Varidesk Pro 30 |
| --- | --- | --- |
| Width x depth | 28" wide x 20" deep | 30" wide x 23" deep |
| Max. height | 16" | 15.5" |
| Lowered position height | 5" | 8" |
| Footprint (base dimensions) | 24.5" wide x 16" deep | 30" wide by 26.75" deep |
| Height stopping points | Anywhere between 5" and 16" | 11 set stopping points |
| Max. load weight | 20 lbs | 35 lbs |
| Color | Black | Black |
| Construction materials | Particle board surfaces and steel legs | Heavy duty plastic |
| Lift assist | Air-pump assisted | Spring-assisted |
| Special extras | | Pull-out keyboard tray |
Max height and stopping points
Both desks go to about 15″ high (be warned, they get wobblier the higher you go).
The X-Elite Pro can be locked at any position between its flat position (5″) and its max height (15″), and the Varidesk has the same range and can be stopped at any of 11 set stopping points. The thing to think about here is how tall your existing desk is. Use our guide to find your ideal standing desk height, then use the heights of your existing desk and your adjustable riser to figure out if it'll be a good height for you.
Load capacity
X-Elite Pro holds up to 20 lbs; Varidesk Pro holds up to 35. Most modern monitors weigh far less than 20 lbs, with a few exceptions from Apple:
Assembly
Both desks come completely assembled, just plop 'em on your desk.
They are, however, rather heavy – 30 or 40 lbs each. You may want a helper to help you place your adjustable desk onto your existing desk.
What fits?
Depending on the size of the monitors, you can cram as much as two monitors, a keyboard and mouse with a little room to spare. You can probably fit two 20″ monitors, but two 24″ wouldn't fit unless one is rotated vertically. A laptop would fit easily, but you'll want to prop it up on something and use a different keyboard for better ergonomics.
This Varidesk Pro 30 action shot from coachkate.com shows the Varidesk Pro 30 in use with a small flat panel monitor atop a ream of printer paper, a 20″ keyboard, and mouse.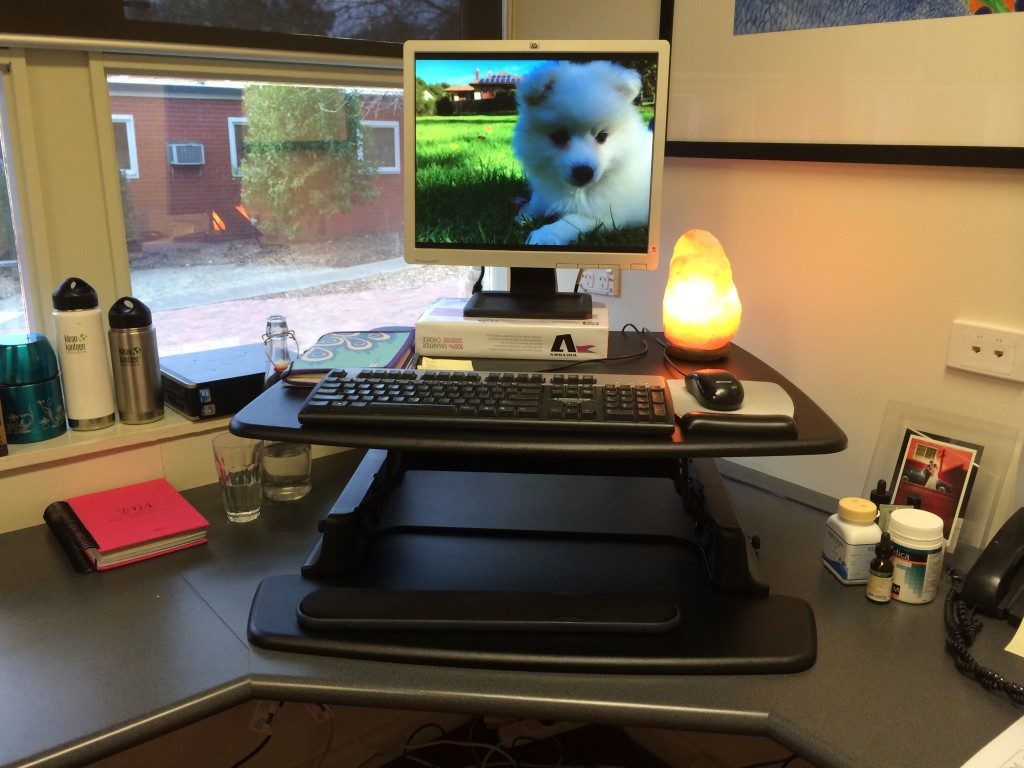 Lift Assist
Both desks have a pump assist for lifting and dropping (like an office chair). Lifting the desk surface does require some mobility on your part – you'll have to lean over it and squeeze the handles to lift or lower the desk.
Shakiness
The X-Elite Pro is a bit shakier compared to the Varidesk, which is heavier a little less shaky when typing. Both will shake more or less depending on how hard you type.
Other things to know
There's not much room for anything else up there
Neither desk is wide enough to place anything (a notebook, stack of documents, etc) adjacent to a keyboard and mouse.
Not quite desk-level when flat
The X-Elite Pro sits about 5″ above the surface of your desk when lowered.
The Varidesk Pro 30 sit about 8″ higher than the surface of your desk when lowered (with a keyboard pullout tray).
You might need to raise your chair up a bit to compensate for this default height with either desk.
There is, however, a little trick you can do with the X-Elite Pro. You can remove the pin that prevents it from laying completely flat. The catch: the hydraulic lift assist only kicks in at 5″ and higher, so the first 5″ of lift will be unassisted if you do this.
Watch the drop
The Stand Steady X-Elite tends to drop – hard – when you lower it. Hold on tight for the last few inches. (Don't worry about smashing your fingers, though, both the X-Elite and the Varidesk Pro have safety bars to prevent that.)
Pull out keyboard platform on the Varidesk Pro 30
The Varidesk Pro 30 has a nice slide-out keyboard support tray. This is nicer than the X-Elite Pro's "all on one surface" design because it lets the rest of the Varidesk Pro desk act like a monitor stand, while your arms can rest comfortably lower than the monitor's base.
Here's the Varidesk Pro 30 in the lowered position. Note the pull-out keyboard tray in front!
Which one is better? Stand Steady X-Elite Pro vs. Varidesk Pro 30

The Varidesk Pro is our top pick between the two.
The X-Elite Pro is a fine choice, but we think this is one of those times where it pays to pay a little more. The Varidesk Pro is sturdier and larger, and the keyboard tray improves its ergonomics while using it seated.
Varidesk Pro 30 advantages over X-Elite Pro:
larger surface (6″ wider than X-Elite pro)
it lifts more smoothly
it can hold 15 lbs more than the X-Elite Pro (ideal for Thunderbolt and iMac users)
it's more tolerant of hard typing (less shaky)
pull-out keyboard tray for seated position
The Varidesk Pro 30 won us over with better stability, a higher weight capacity, and ergonomic pullout keyboard tray.
*Our top pick*
》》》Shop for Varidesk Pro 30 on Amazon.com 《《《
》》》Shop for X-Elite Pro on Amazon.com《《《