Varidesk Pro Plus Review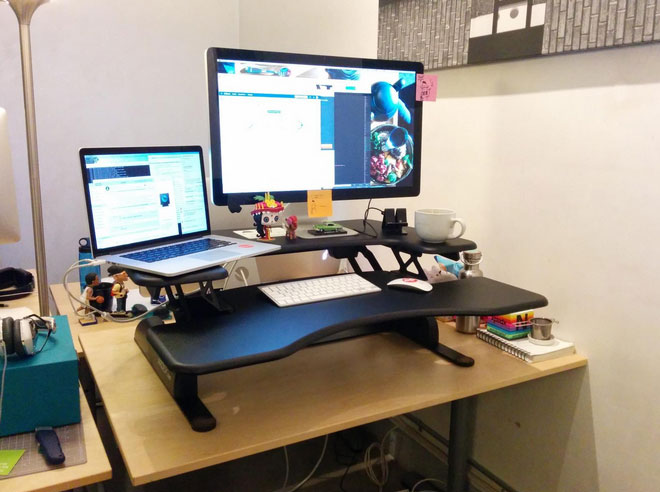 The Varidesk Pro Plus is not exactly a desk: it sits on top of your existing desk to create an adjustable-height surface for your keyboard and monitor. Convert from sitting to standing by squeezing the handles and pulling upwards. The lift is spring-assisted, and the transition is smooth. If a motorized adjustable standing desk isn't feasible for whatever reason, the Varidesk Pro Plus is the next best thing.

See Varidesk Pro Plus on Amazon.com (affiliate link)
Varidesk Pro Plus Review
TLDR: The Varidesk Pro Plus is a fantastic adjustable height standing desk. Adjustable, sturdy, fast to set up, and it even supports 10 different heights. It's the largest adjustable desk offered by Varidesk, giving you the maximum amount of space for your monitors, laptops, and accessories.
Varidesk Pro Plus Dimensions
36″ wide x 23″ deep – this is enough for two monitors of about 23″ wide each, or one 24″-29″ monitor.
Holds up to 35 lbs – plenty, even for two monitors and a laptop.
Max height of 18″ (monitor) and 14″ (keyboard) – and there are 10 heights to choose from. Depending on how high your existing desk is, 18″ may or may not be enough for you. The most positive reviews on this desk come from people between 5'2″ and 5'11". Some users over 6′ have complained that Varidesk isn't tall enough.
52 lbs – it's heavy, so be sure the surface you're using it on is strong enough to hold the stand plus your equipment.
Works best for – people between 5'2 and 6'0 tall. Taller users may need to find additional ways to elevate their desk or the monitor(s) sitting on the Varidesk Pro Plus, such as with the addition of a monitor bracket.
Varidesk Pro Highlights
5 minute setup: the Varidesk arrives assembled and ready to use
Switches modes in seconds
No mounting or modifications to your existing desk
Plenty of space for ergonomic keyboards and space for up to two monitors
Easy and quiet spring-assisted adjustment (squeeze the handles and lift)
Keep your chair! No need to buy a standing-height chair
Sturdy and strong – rubbery feet to help keep it in place, thick surfaces, heavy weight (52 lbs)
Stand Up, Even at a Sitting Desk
My favorite thing about the Varidesk Pro Plus is the way it transforms otherwise static desks into adjustable standing desks. No need to ditch your chair or haul out your current desk: just plop a Varidesk on top and you're good to go.
This makes the Varidesk ideal for corporate offices with fixed desks, cubicles with nonadjustable surfaces, heirloom desks, kitchen tables, and so on. If you can't convince your boss to hook you up with a full size standing desk, you might be able to convince him/her to invest in one of these instead.  Even if you end up buying your own Varidesk for your office, you can easily take it with you when you change workstations or companies.
Sitting to Standing in 6 Seconds Flat
You adjust the Varidesk Pro Plus switches by squeezing the handles on either side of the workstation and pulling up. The springs do the heavy lifting. Reverse the process for returning the desk to the seated position. The adjustment is effortless, quiet, and smooth. There are 10 settings for height, so you can learn which one works best for you and choose it whenever you return the desk to standing height.
This video demonstrates how easy it is to adjust the desk:
Spacious Surfaces
Many adjustable desks only have enough space for one monitor, but most people like to have 2 these days, or like to combine a laptop with a monitor. The extra surface space on the Varidesk can hold water bottles, notepads, pens, toys, etc. For even more surface space, you can attach a monitor stand to your Varidesk's top surface and free up the top platform.
Some owners recommend getting a wireless mouse and/or keyboard to go with this desk, since the lack of wires will make adjusting between sitting and standing easier. Depending on where your computer is in relation to your desk, you can probably get away with not switching to wireless accessories.
Varidesk Pro Plus with a Monitor Stand
Varidesk doesn't have an official monitor stand, but some users attach third party stands with success. Credit goes to RT7 for demonstrating that yes, you can attach a monitor bracket to the Varidesk Pro Plus. They used a Duronic DM352 with their Varidesk Pro Plus. (For some reason, this monitor bracket isn't well known in the US. However, it is quite popular in the UK.)
Varidesk Pro Plus Drawbacks
Monitor shake – Depending how hard you type (or if you bump into it), your monitors may shake. The desk isn't unstable, it's just the inevitable result of the monitors and the keyboards resting on the same structure.
Keep an eye on your cables. If your computer is very low, your cables may not reach once you've extended the Varidesk Pro to its maximum height.
The keyboard surface height is not adjustable. You can't tilt it or make it higher or lower. Some users resort to putting paper or books under the keyboard to get it at a comfortable height.
Large footprint. The Varidesk Pro Plus eats up a lot of desk space, and since it's adjustable you can't just put things underneath the elevated surface.
Overall
All in all, the Varidesk Pro Plus is a great concept fantastically executed.
Owners report that it is stable and sturdy, easy to adjust, and worth the investment. I like the Varidesk because it lets you keep your existing chair (getting a standup chair can cost around $100, and that's a good deal of the way to buying the Varidesk) and because the Varidesk can adjust to the right height for you.
It's not ideal for people over 6′ tall unless you add on a monitor bracket for additional screen height and use the top shelf as the keyboard shelf instead.
If you want a standing desk but can't afford (or can't convince your boss to get you) a fully adjustable standing desk, the Varidesk is the next best thing on the market.
More Varidesk Pro Plus Reviews & Links