The best standing desk chairs reviewed and ranked (2016)
Standing up is great, but sooner or later, you're going to want to sit for a bit. Ordinary desk chairs won't do: they can't raise up high enough. Adjusting your desk's height on a whim can be tedious, dangerous, or outright impossible.
What you need is a standing desk height chair!
If an active chair or stool is more your style, check out our Best Active Chairs and Stools for Standing Desks.
Standing Desk Chairs Compared
The chairs in this article are almost all chairs I've sat in and have some personal experience with. Here, I've ranked my favorite standing desk chairs and highlighted some of each chair's best features.
Overall top pick chair: Safco Metro standing height chair

The Safco Metro standing height chair is like an ordinary chair but taller.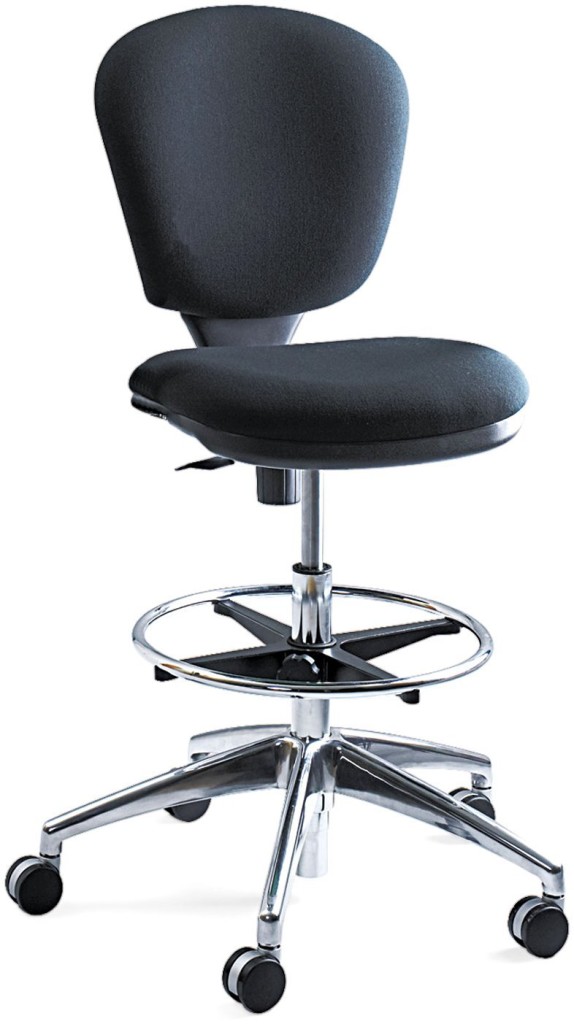 Pros: The Safco Products Metro chair gets the honor of being top pick because it's the most chair-like standing height chair I've encountered. The cushion is 18″ wide and supportive – great for those of us who don't care for sitting on a mesh chair. The chair's back tilts if you lean on it for extra ergonomic comfort.
In general, this chair's just got a good heavy duty feel to it. My corporate day job office gives these to workers with standing desks and they are quite popular.
Cons: For this chair's price tag I'd expect the arm rests to be included (arm rests are sold separately!) but I suppose it's nice they are optional for those who think armrests just get in the way. Also, some reviewers report the foot rest ring slides down and has to be repositioned occasionally. I've found this to be true of many other chairs I've used, so your mileage may vary.
Height range: 22″ to about 31″ when sitting in it
Upholstery: 100% black acrylic
Armrests: sold separately (click here)
Hardwood casters: sold separately (click here)
Top budget chair: Boss Caresssoft Drafting Stool

The Boss Caresssoft Drafting Stool's firm cushion and supportive back and <$100 price tag make this standing height chair a solid choice.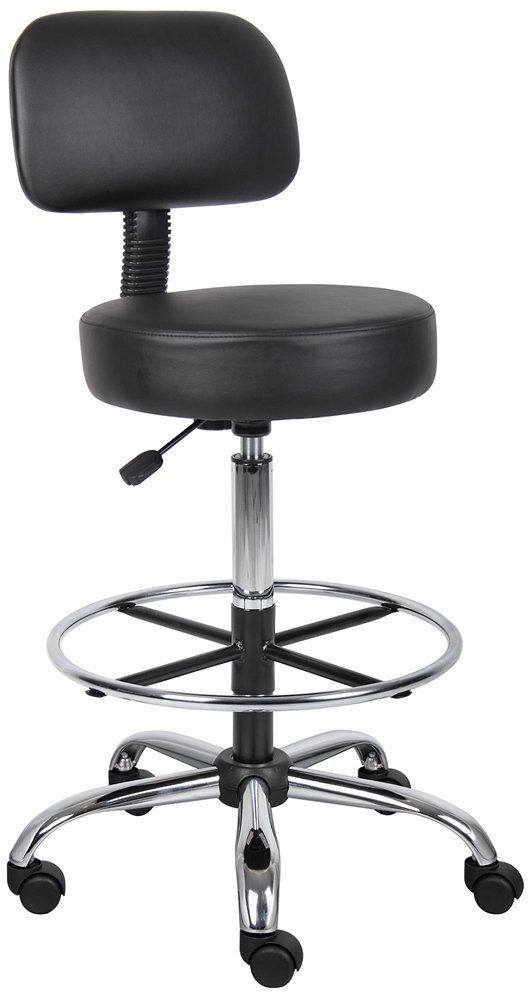 Pros: The Boss Caresssoft drafting stool has been my own at-home standing desk chair for a couple years now. After 2 years of daily use, the cushion has only started to sag a bit around the edges where my thighs hang over. It's got a nice lift to it when I pull the handle and the chair has a good sturdy feel to it, even for sitters over 200 lbs. This chair goes higher than any other chair I've tried, so if you are particularly tall (over 6′) and/or your standing desk is particularly high up, this chair might be the one for you.
Cons: I wish it had arm rests. Also, to be completely frank, the 15″ diameter cushion isn't that great to sit on for hours on end as my bum is about the same width. In a way, this is a good thing because the growing discomfort in my butt prompts me to go back to standing.
Height range: 28″ to about 35″  *tallest standing height chair* 
Upholstery: "Caresoft Plush" (it's soft and leather-like)
Top mesh chair: 

Eurotech Apollo mesh back drafting stool
The Eurotech Apollo mesh back chair keeps your back cool and your arms supported with the included arm rests. (Note: I don't know why the manufacturer calls this a drafting stool, it's clearly a chair.) 
Pros: Some people love mesh chairs. I'm not one of those people, but if you are, then the Eurotech Apollo might be the chair for you. It's the priciest chair I tried, but it's sturdy and well-reviewed by over a hundred happy Amazon customers. The 20″ wide seat is comfy and the widest of all the chairs I tried.
Cons: If the Eurotech's price makes you cringe, check out the Safco Extended-Height Mesh chair (just know that armrests are sold separately and, once you've bought them, you're almost up to the Eurotech's price).
Height range: 26″ to about 33″
Upholstery: mesh back and black acrylic seat cushion
Best backless chair (stool): Winsome Spectrum airlift swivel stool
The Winsome Spectrum airlift lacks a back (you win some, you lose some?), but it's cheap and efficient for short sits.
Pros: It's inexpensive and simple. The Winsome Spectrum stool features a 15″ x 15″ faux leather platform to rest your butt on. There's no back, but that might be a good thing if your goal is to encourage good posture (I tend to just slouch into a chair back if given one). The pneumatic lift makes height adjustments a snap.
Cons: It's best for shorter folks with lower standing desks (it falls about 3 to 5″ shorter than other chairs in this comparison). If you're 5'8″ or under, this stool will probably work for you. Also, it's not a very comfortable chair for long sits. If you need to sit for extended periods of time (or you want arm rests), this chair isn't for you.
Height range: 24″ to 30″
Upholstery: faux leather
Best stool with a back: Flash Furniture vinyl stool
The Flash Fitness stool is cushiony and has a back.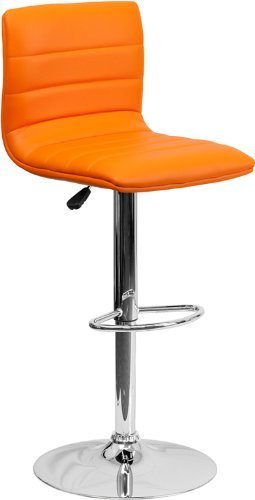 Pros: Inexpensive, simple, and it comes in a bunch of colors! The Flash Fitness stool adds height and a splash of color (or black, white, green, yellow, purple, and more if you'd rather not have it in orange) There's also a two-pack of these chairs, if you want a matching set. This stool offers easy assembly (four screws) and a relatively light weight (22 lbs), despite the large base. Manufacturer says it's good for folks up to 300 lbs.
Cons: As with many stools, be careful putting it onto a scratchable floor. Consider using a rug or something underneath if you're worried about your hard floor. No arm rests and the foot rest is rather dinky.
Height range: 23″ to 31.5″
Upholstery: vinyl
Honorary mention: Wobble stool by Uncaged Ergonomics
It's definitely not a chair – it's a stool you can lean on! This thing is too weird to not include – have you used the Wobble Stool by Uncaged Ergonomics? Do you like it? I haven't tried it, but I can see how it might appeal to people with very active desk lives.
The base is designed to let the sitter lean in any direction (and I have no idea what happens if you lean backwards so hold onto something if you try it). The Wobble Stool is designed to encourage movement even while sitting, and with a max height of 33″ you can even use it with your standing desk!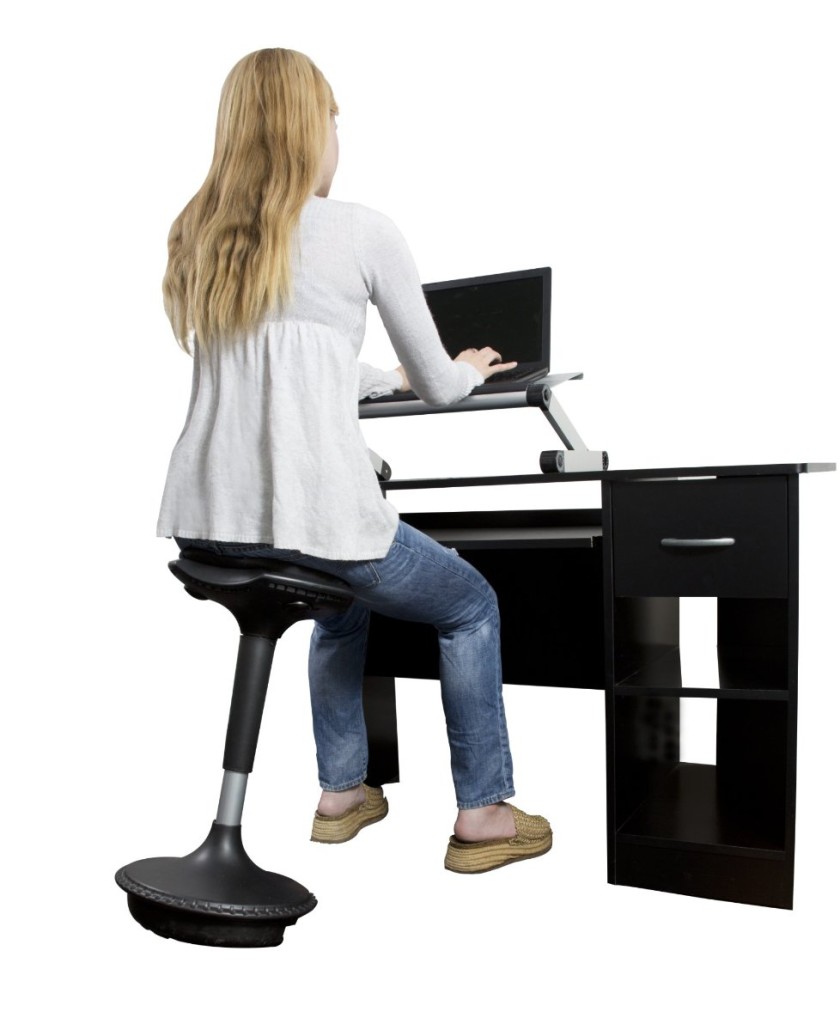 If you're not 100% sold on the idea of a standing chair (too sedentary!), then the Wobble Stool might be worth your consideration.
Height range: 22″ to 33″
Upholstery: faux leather
There we have it, folks – the best extra tall chairs for your standing desk.